08 Sep 2023
Accelerating the Progress of Gender Equity in Data, Analytics, and AI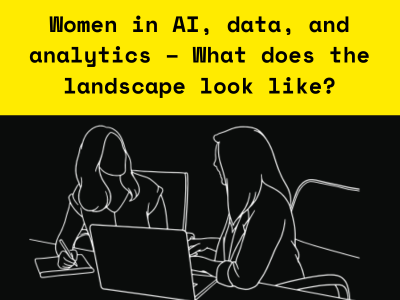 Gender equality in data, analytics, and AI is no longer a pipedream. As the realm of AI continues to advance at a lightning pace, companies are aware of and are making strides toward diversity and gender equity to achieve greater success.
The comprehensive business report, "Accelerating Gender Equality in Data, Analytics and AI," jointly produced by Omdia, Informa Tech's AI Business and the Women in AI organization, explores the current landscape of women in AI, the importance of achieving gender equity in AI, and suggested moves toward closing the gender gap.
More women are entering the AI workforce
The gender imbalance in the global AI workforce has greatly reduced in recent years, with women now occupying a substantial one-third of the workforce. In the Women in AI survey conducted for this business report, 23% of respondents believe that their respective departments have achieved a 50:50 ratio of men to women. In terms of perceived importance, in addition to 37% of technology startups having women on their boards of directors, 45% of women today believe that they play a pivotal role in building AI solutions that have reduced bias.
Gender equity in tech is not an individualized effort. Encouragingly, more than half of the respondents believed that their companies have made or are taking steps to achieve gender equity in AI. At least 31% of respondents feel their companies are proactive about initiatives such as making gender diversity a priority, understanding how to motivate women, investing in equitable policies, and setting up a system of checks and balances. In the respondents' view, 39% of their companies will have achieved equal gender representation in their workforce in the next five years. There is still progress to be made, but the report shows encouraging signs that businesses and more importantly mindsets are moving in the right direction.
Yet despite these positive results, barriers still exist for women in AI. When asked about their perception of the industry, more than half of the respondents pointed to the fewer opportunities for senior roles for women, favoritism for male counterparts in recruitment and promotions, and AI solutions being outdated owing to data or algorithm bias. These underscore the importance of continued efforts toward gender equity in tech and AI.
Gender equity in AI improves workplace culture and financial performance
Companies stand to gain substantially from gender equity in AI. According to respondents of the survey, the most salient benefits they perceived as a result of an equitable workplace include improved workplace culture (69%), better talent attraction and retention (45%), and the presence of diverse opinions (43%). Evidently, workers respond favorably to companies that prioritize diversity, equity, and inclusion.
Gender equity also affects companies' bottom line. According to the business report, bridging the gender gap in the workforce could lead to a GDP increase of 7% (equivalent to $7 trillion today). Debbie Botha, Chief Partnership Officer of Women in AI also noted that companies with gender equity on their boards and C-suites have on average 10% better financial performance than those that do not.
Deeper reforms needed, especially in education
Efforts to advance gender equity in AI begin long before women enter the workforce. STEM education in particular needs to be more accessible and engaging for females. Specifically, we need to expand female interest in STEM and computer science as early as in K-12 education.
Universities should implement courses on anti-bias and sensitization training when training future educators, while school boards should incorporate inclusivity as a key performance review metric when assessing teachers and their performance in classrooms.
AI companies can also explore the implementation of mentorship and coaching programs, an approach that 41% of our survey respondents believe would help with their career advancement and gender equity in the workplace. Moreover, companies should take a proactive stance in advocating for women, which includes alleviating the unique stresses of women as caregivers of their families and partnering up with governmental entities to improve female participation in AI.
Corporate practices range from the recruitment and promotion processes to the company culture. Organizations will benefit from reassessing and improving their existing practices to make them more equitable and inclusive for female employees.
The Women in AI report details inherent biases in the algorithms used to process job applications to the detriment of women. Survey respondents echoed this sentiment and suggested myriad methods to overcome this bias in AI/ML solutions, including using best practices to gather data (56%), extensive testing of data and algorithms (51%), and random sampling in data selection (43%).
Additionally, women still face barriers, such as being overqualified for their positions and under-compensated compared to their male counterparts, social exclusion, and the need for a flexible working environment. As such, companies must rethink their approaches to promotions and career development, internal support structures, and networking opportunities, ensuring women in AI are not held back compared to their male counterparts.
For a more comprehensive analysis of findings and suggestions, click here to access the "Accelerating Gender Equality in Data, Analytics and AI" business report.